It's been just over a quarter-century since the South Queensland Crushers went to the big grandstand in the sky.
When Brisbane's second rugby league side left the field in the final round of the 1997 season, everybody knew it was the end. Oblivion had been a long time coming for the side that entered the big leagues two years earlier to so much promise and hope.
In 2023, the NRL has a second team in the Olympic City, with the Dolphins joining the league to try and succeed where South Queensland could not.
But the tale of the Crushers is more than just a woeful expansion side being dead on arrival. It's a tale of best-laid plans gone awry, copping bad breaks and worse luck when you're fighting city hall, and trying to plan for a future when it feels like the world is ending.
In a two-part ABC Sport production, this is the story of the South Queensland Crushers, from start to finish, through the too many miles, the too few smiles and the endless proof that all that glitters isn't Aztec gold.
By Queenslanders, for Queenslanders
Legendary Maroons manager Dick Turner (left) formed a crucial part of South Queensland's early days. (Getty Images)
Before there were the Crushers, there were the Broncos, and they cast a long shadow the newer club could never truly escape.
Australia has never seen a rugby league team as big as the Broncos were in 1993 and it's unlikely anybody will hit those heights again.
After their breakthrough premiership in 1992 and incredible triumph from fifth spot the following year, there were serious articles written by serious rugby league journalists questioning if they could give St George's legendary run of 11 premierships in a row a serious shake.
They had so many stars they were able to show Wally Lewis the door and become stronger for it. Lang Park became too snug and even though their new home at Queensland's Sports and Athletics Centre (QSAC) was bigger, they filled it almost every week — in 1993 they averaged 43,200 people per game, a record that stands to this day.
They were as big as the rest of the league combined, the one and only act in a rugby league city in a rugby league state, the kind of team God would put together if only He had the money. They had only been in the NSWRL for six years and they were already close to outgrowing it.
So it was natural for the NSWRL brass to realise Brisbane was big enough to be a two-horse town and, on November 30, 1993, the South Queensland Crushers were formally admitted to the 1995 competition.
The Broncos were so space age and cosmopolitan it would have been a losing battle to try and take them on star-for-star, so the Crushers adopted a new strategy.
Chief executive Daryl Van de Velde had been part of an initial bid for a Queensland team to join the NSWRL before the Broncos entered the league in 1988, and chairman Dick "Tosser" Turner was the legendary team manager for Queensland's State of Origin team as well as a Redcliffe stalwart.
Space to play or pause, M to mute, left and right arrows to seek, up and down arrows for volume.ListenDuration: 12 minutes 30 seconds12m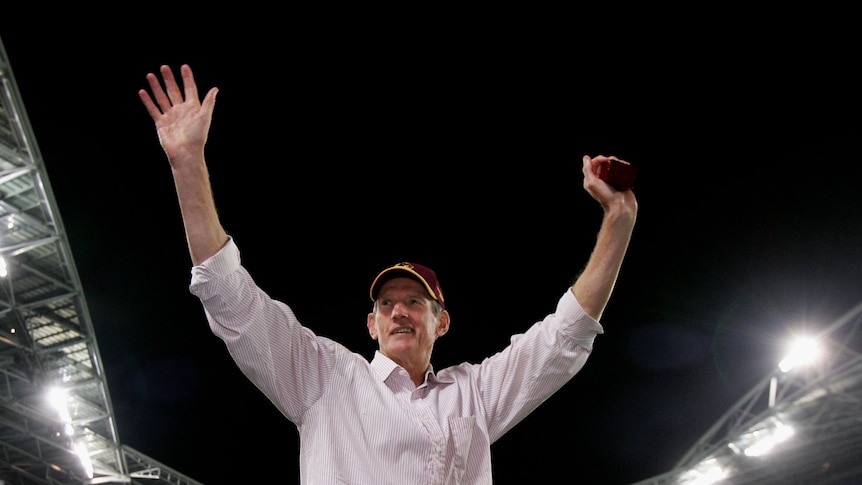 Can Wayne Bennett make the Dolphins work?
This meant the new club already had deep roots to the Queensland rugby league fraternity, which could give the them a lived-in feel despite their status as a new franchise.
"I'd coached Redcliffe, so I knew Dick Turner pretty well and I was coaching Castleford at the time. He asked if I wanted to come and be CEO of the Crushers and I said 'probably not, I'd rather be coach' but he got me out here as CEO in the end," Van de Velde said.
"We worked very hard as the only two people in the organisation at the start, to build it. All the other clubs had players tied up beyond our starting date, so we only had what was left, and that was the hardest part."
The club operated on a long-term plan, mining talent up and down the state and banking on Queensland pride and attitude to bridge the talent gap to the bigger sides.
The Broncos could be Friday Night Football, but there was a gap in the market for the Crushers to be cans of XXXX on the Lang Park hill, to personify the best of the old Brisbane Rugby League competition, which was diluted upon the Broncos' entry to the NSWRL, and bring yesterday back to life.
The aim was tradition repackaged in the modern, the old days wrapped in flash new jerseys of blue and Aztec gold, the club's official colours.
For that to happen, it was crucial the Crushers found a local feel, so the hunt began for good old Queensland boys for a good new Queensland team. Top of the list was Maroons stalwart Trevor Gillmeister, a 31-year-old warhorse famed for his ferocious tackling.
"The Axe" was running out the last years of his career but could still chop any man down and the Crushers went hard to get him from Penrith.
"I had another year to run on my deal, and I wasn't in the habit of breaking contracts, but Tosser said he'd do whatever it takes to bring me back," Gillmeister said.
"I spoke to Royce (Simmons, Panthers coach), I told him they offered me a lifetime contract, they said I could sort out what I wanted to do, I could retire whenever I wanted and then come back as a coach or administrator or take a year off and then come back.
"It was too good to refuse when I was near the end of my career."
Simmons agreed. Having retired a few years earlier, the Penrith legend recognised the late-career angst and Gillmeister's homecoming was confirmed.
Gillmeister was already a Queensland favourite when he signed with the Crushers. (Getty Images: Sean Garnsworth)
More Origin veterans followed in Dale Shearer, who came up the road from Gold Coast, and Mark Hohn, poached from the Broncos themselves.
North Sydney prop and former Rabbitohs skipper Mario Fenech was the club's sole big name import from Sydney, with future Origin players Chris McKenna, Craig Teevan and Scott Sattler helping to round out the squad.
The Crushers were willing to play the long game, investing plenty of time in building a strong junior network for their first few seasons in the league.
For 1994, while the rest of the club was built, the first Crushers team ran around in the Brisbane Rugby League to give some of those kids a taste of bigger-time footy.
Turner and the rest of the club's administrators fought hard for the club to retain their local feel.
"We weren't going to go south of the border for the most part. We wanted young, Queensland kids," Van de Velde said.
Things weren't always easy, but the young Crushers did well, finishing in sixth spot and missing out on the finals by a single competition point.
The club had found some diamonds in the rough, with the club's far-reaching scouting network unearthing future Origin players Clinton Schifcofske and Travis Norton.
"I grew up in Moranbah, west of Mackay, and me and Travis Norton were scouted after the local grand final in 1993," Schifcofske said.
"Back in those days there was no YouTube, nobody had agents, it was real work from the scouts."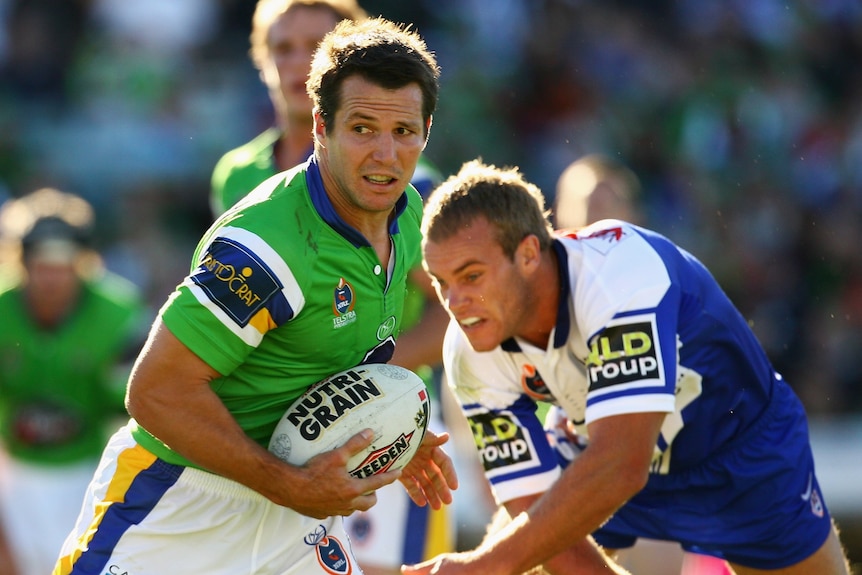 The Crushers uncovered future Queensland Origin player Clinton Schifcofske (left).(Getty Images: Mark Nolan)
Former Broncos lower-grade coach Bill Gardiner led the side and was set to take up the clipboard for the club's first season in the ARL in 1995, but midway through 1994 the club had a change of heart and he was dismissed – enter another Queensland Origin legend.
Bob Lindner was originally signed as a veteran player after a stint in the UK, but then, after a month in limbo following Gardiner's axeing, club bosses cancelled Lindner's playing contract and hired him as coach.
"It was only a month or two before everything was meant to start up in earnest for 1995," Lindner said.
"It was pretty daunting and a big risk from all parties from my point of view, being so inexperienced. But I had a lot of faith in the people around me."
Van de Velde was a former coach, so knew what was required, but it was Lindner's relationship with Turner, who was the Maroons' manager during Lindner's Origin career, that got him to the club.
"I wouldn't have entertained any of it, even coming as a player, if it weren't for Tosser. … He was the guts behind my decision," Lindner said.
While building something from the ground up sounds romantic, it's a huge undertaking.
"We couldn't say 'this is what the Crushers look like', we were just an idea on a bit of paper," he said.
"It was up to us to create whatever we could out of what we had."
But there was the promise of a future, especially when the stars of the day mixed with the club's new generation at the leagues club after training.
"For a kid from Moranbah, sitting around having beers with Trevor Gillmeister, Dale Shearer and Mark Hohn, Origin heroes, it was incredible," Schifcofske said.
"I was like a kid in a lolly shop, couldn't have been happier."
Recruits? We missed a few
With three other new teams — Western Reds, North Queensland Cowboys and Auckland Warriors — joining the Crushers in the big league for '95, the arms race was on to fill out the new squads.
The Crushers had the inside track on Brisbane and Gold Coast products, but that was never going to be enough and for all its grassroots ambitions.
The club had to aim high when it came to landing a few big fish, because as sure as styles make fights, stars make fans.
In the end, Gillmeister, Shearer, Hohn and Fenech were what the club managed to muster, but it wasn't through lack of trying.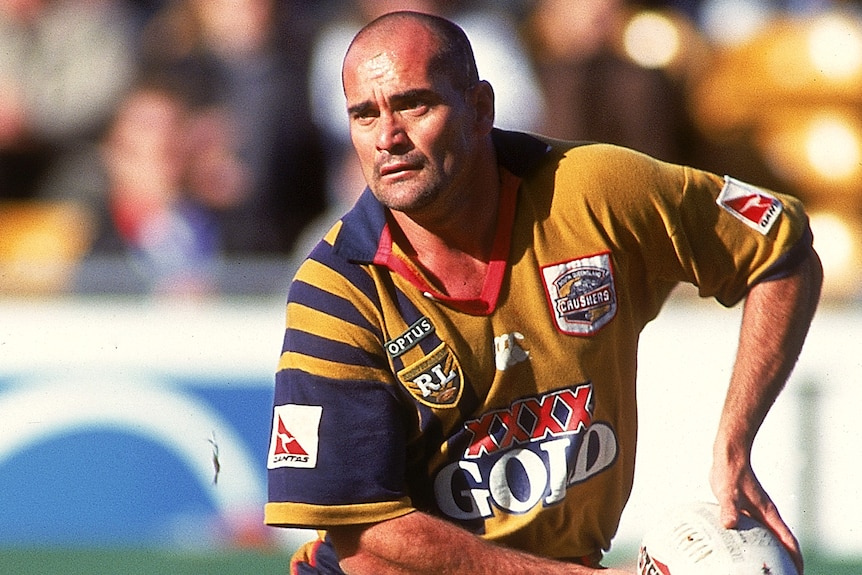 Dale Shearer was one of a number of former Origin stars who joined the club.(Getty Images)
There was an ambitious play to land Canberra's Mal Meninga for one last year as a player before having him take over as coach, but the Queensland and Australian legend knocked them back. Knights fullback and future Queensland Origin player and Clive Churchill medallist Robbie O'Davis also turned down a deal.
Maroons regular Darren Smith, then of Canterbury, agreed to join the club but backed out before a deal was signed and headed to Brisbane instead.
There were other stars brought in from the far side of the world – mainly secured via Van de Velde's connections to Castleford.
He signed experienced halfback Mike Ford, who had played for Great Britain for years, and outside back St John Ellis, who was "a bit mad" but dangerous with the ball in hand.
Rugby union also wasn't exempt from the Crushers' raids. The club signed 10-Test Wallaby back Anthony Herbert – they tried to land his brother and future Wallaby Daniel, but couldn't get the deal done — but the real stunner was to follow.
Everything about the club landing Garrick Morgan was big. At 198 centimetres and 128 kilograms, the second rower was close to the largest player in the league and, on a bumper $600,000-a-year salary, he was among the best paid.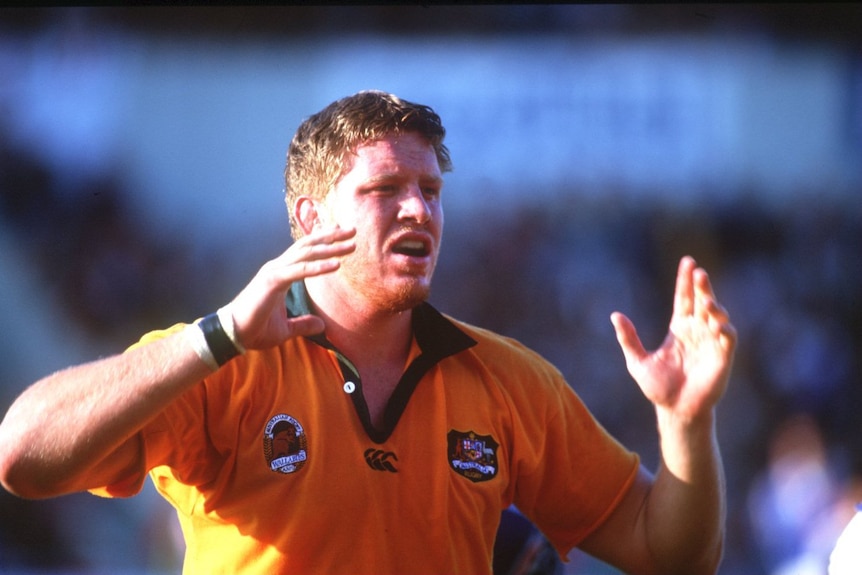 Garrick Morgan was one of the best rugby players in the world when he signed with the Crushers. (Allsport via Getty Images: David Rogers)
It was a gamble, but Morgan had the athletic pedigree to make it worthwhile. In 1993 he was named International Rugby Player of the Year by prestigious French rugby magazine Midi Olympique, essentially making him the best forward in the 15-man game.
"The money helped out a lot given rugby was still amateur at the time, but I always thought I'd love to give league a go because of my dad (1960s international John Morgan). That was the main part of the decision," Morgan said.
"The professionalism was an eye-opener."
Two other Wallabies, Tim Horan and Jason Little, seriously flirted with a switch to league.
Loading YouTube content
Horan and Little were both Wallaby stalwarts by that stage – they played together in the centres for Australia in the 1991 World Cup final victory over England and Horan in particular was well on his way to becoming a legend of the game.
Reports from the time suggested the pair's code switch was a matter of "when" rather than "if", and with the two proud Queenslanders looking to stay in Brisbane, the Crushers had the edge on the other expansion sides.
Van de Velde said Little was signed, sealed and delivered for the Crushers, but backed out hours before his signing was to be announced.
"We had the release ready to go out at 6am when Jason backed out, and I think if we'd gotten Jason we'd have gotten Tim, because they were great mates," Van de Velde said.
"I didn't put a lot of effort into Tim until then, but there could have been a domino effect. The game was short of centres at the time and we really could have used them."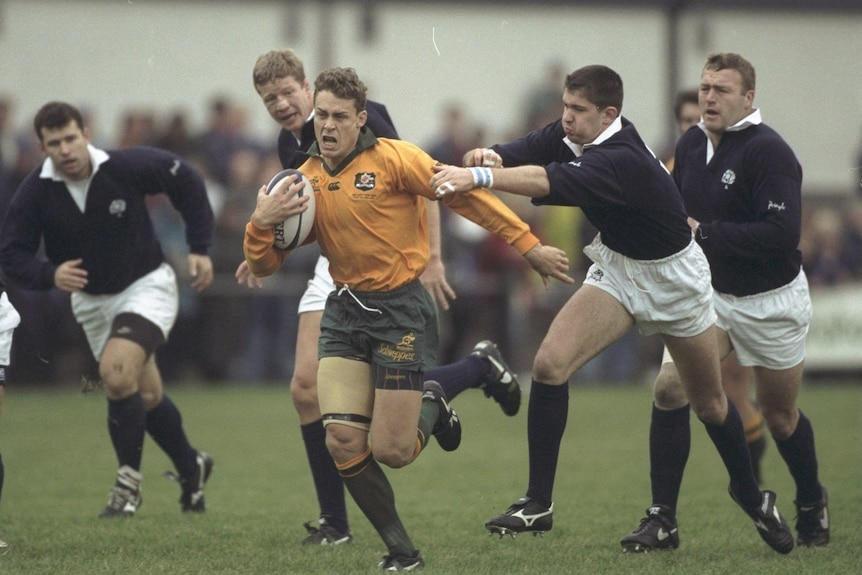 Little was signed, sealed and delivered for the Crushers. (Allsport via Getty Images: Dave Rogers )
Sattler remembers just how close the club came to starting that domino effect.
"The very first day, we arrived at training and we had all our personalised training bags with our initials on them with all our gear inside. I remember seeing Jason Little's gear bag, but he'd changed his mind that morning," Sattler said,
"They [Horan and Little] could have been the difference between winning four games and winning 10 games."
Fijian rugby calls in a higher power to keep sevens star
There was one more rugby union star the club was after – Fijian sevens demigod Waisale Serevi.
Serevi was already one of the best sevens players in the world and, as Canberra's Noa Nadruku had indicated, it was easier for sevens players to make the transition across to league and have an immediate impact.
Loading YouTube content
Van de Velde watched Serevi star in a sevens game in England and flew him to Australia, putting him on a contract worth "a lot of money".
"Dick organised for him to stay over here for a week before he went back to Fiji. I was still in England, and when I came back to Australia we couldn't get in touch with him," he said.
So Van de Velde and Fijian Crusher Fili Seru flew to Fiji.
"I told Fili to go and a find him and bring him in so we can talk to him," Van de Velde said.
"Two days later, Fili comes back and says he can't find him, but we were getting desperate because we had to get back home."
Fiji Rugby Union said the Crushers didn't have a contract with Serevi, and when Van de Velde showed them the signed document, they called in a higher power.
"I ended up meeting with the Archbishop of Fiji at Waisale's house, it was a grass hut with a dirt floor and we sat on the floor and had a meeting," Van de Velde said.
"The Archbishop was really keen on him staying in Fiji, but I told him I'd invested a fair bit of money in this signing.
"He said they'd refund us the money, I said 'that's fair enough, we want the player, but if that's how it is, that's how it is'."
The pair shook on it, the refund came through two weeks later, and Van de Velde and Seru returned to Brisbane.
Neither Horan, nor Little, nor Serevi ever played in the NRL, and with rugby turning professional in 1995, Morgan and Herbert were the last Wallabies ever to switch to league.
A last-minute name change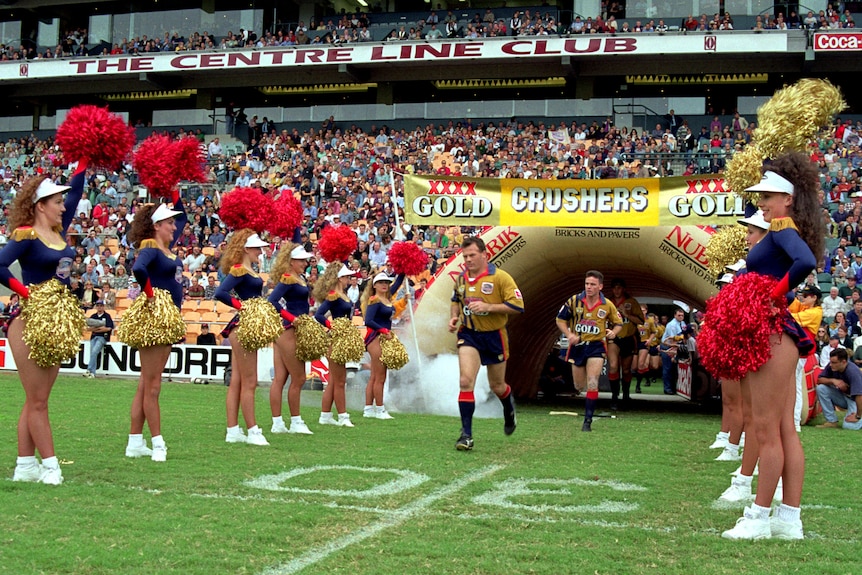 The hype was real for the Crushers in the early days. (Getty Images)
And so, life began for the Crushers.
They had a ritzy launch at Roma Street Station and through the 1994-95 summer they would be bowing to nobody, not even the mighty Broncos.
"They thought we were little brothers and that was fair enough, they'd earned that right. That never concerned me. What we would do was look at every sponsorship contract they had and target the opposition company," van de Velde said.
"They had Powers, we went to XXXX and they gave us the biggest-ever sponsorship contract in rugby league history. They had Ansett, we went to TAA (Trans Australia Airlines).
"We used them [the Broncos], we leveraged their position for our gain, and in those days there was real money in those things because everybody wanted to be involved in rugby league.
"It wasn't a Mickey Mouse operation like a lot of people think. There were some special things going on there. We just needed more time."
But the Broncos wouldn't miss the chance to flex their muscles either; they didn't become the biggest team in the league by letting foxes into the henhouse.
"We were the Queensland Crushers to begin with. I was about two days out from releasing it, we had all our literature and gear printed up," Van de Velde said.
"We were going to launch at Roma Street railway station – we were going to have a train bust through a banner that had all the other club logos on it. People didn't really do things like that back then, it would have been fantastic."
But ARL chairman John Quayle stepped in, saying "the Broncos are blowing up" at another Brisbane team trying claim all of Queensland.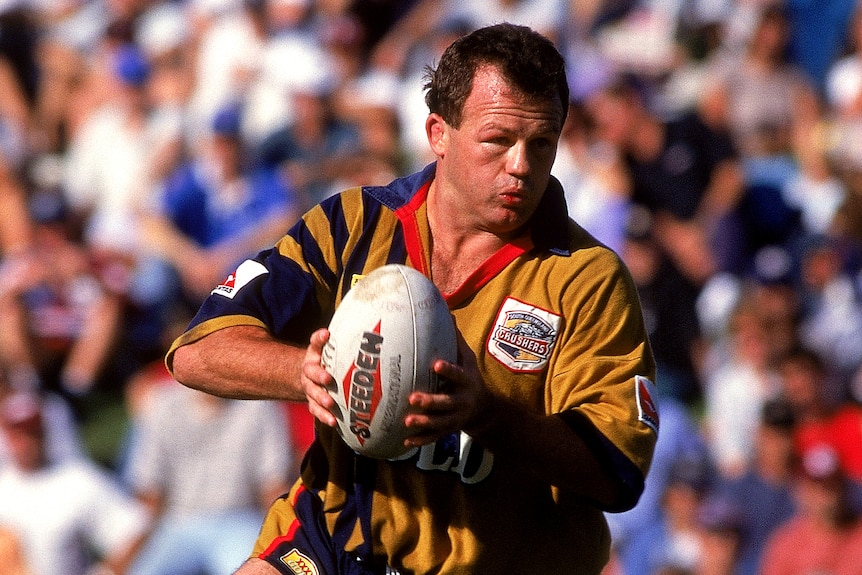 The Crushers were constantly fighting to establish their own territory. (Getty Images)
"So I called in the printer and asked what the options were," Van de Velde said.
"Originally I wanted to go with 'South-East Queensland' … and Quayley said he wasn't sure, he'd have to check.
"I told him I needed to know quickly, because I had the printer ready to go to make the change. In the end, we went with South Queensland and it was pretty bloody tight, we only had a couple of days."
'Everything was so new'
With such strong links to the Queensland Origin mythology through Turner and Lindner, the preseason ran on "raw emotion" as much as anything else, according to Sattler.
"Tosser was trying to turn it into an Origin camp each week, and Origin is built on passion and intensity and making sure the person next to you is the most important person in your life for those 80 minutes," he said.
"That can only go so far when you're playing week to week footy. But I could see the angle they were trying to take, I bought into it and I loved it.
"Bobby was one of the most passionate Origin players ever, and he had so much passion for every training session and he wanted you to be as passionate.
"There was a lot of energy, a lot of emotional energy, and I loved him for it. Because everything was so new it was easy to get excited."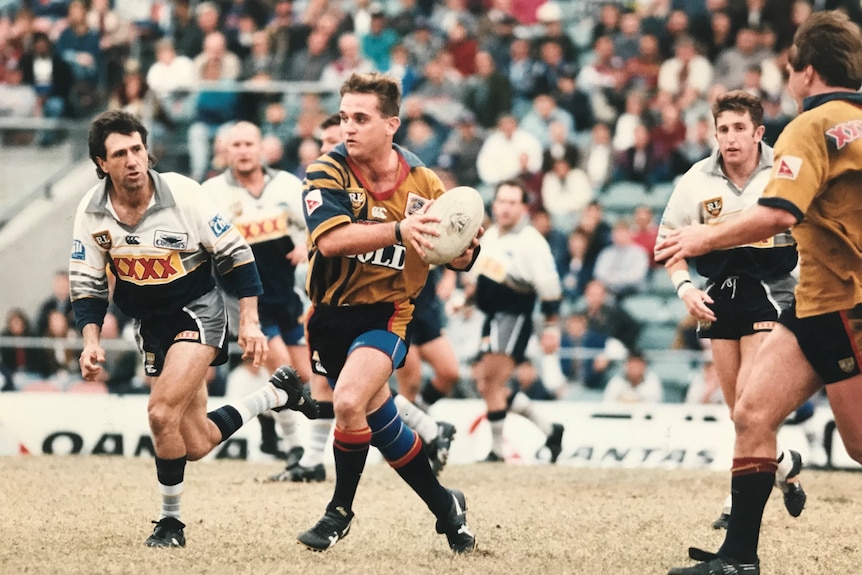 Teevan felt at home straight away with the new club.(Supplied: QRL History Committee)
Craig Teevan, who joined from Cronulla, was part of the first Broncos squad back in 1988 and, while nothing could compare to Brisbane's explosive entry to the competition, he said the hype around the Crushers was similar.
"I was an 18-year-old from the bush back then [in 1988], straight down from Oakey, and my face was on footy cards and there were helicopters flying over training and all the rest, playing with guys I'd only ever seen on TV," he said.
"Second time around I knew how to handle it a bit better. The other difference was the star-studded line-ups, but there were a lot of similarities. People were definitely excited."
Expectations were tempered. At a preseason lunch, Van de Velde predicted the club would win between six and eight games in their first season and refused to back down from that forecast despite pressure from supporters.
Gillmeister was realistic with his aims as well. At the time, instant success for expansion teams was virtually unheard of.
"I knew we'd do it tough for a couple of years while we found our feet, as every team does. Even the Broncos were like that, even though they had a star-studded side," Gillmeister said.
"I don't get excited too easily, but I remember early on Tosser took me and Bobby to a luncheon in town with the Broncos, the Reds, the Lions and the Bulls. We were the same as them, and everyone loves their footy in Brisbane. It was good to get that energy out of the Queensland public."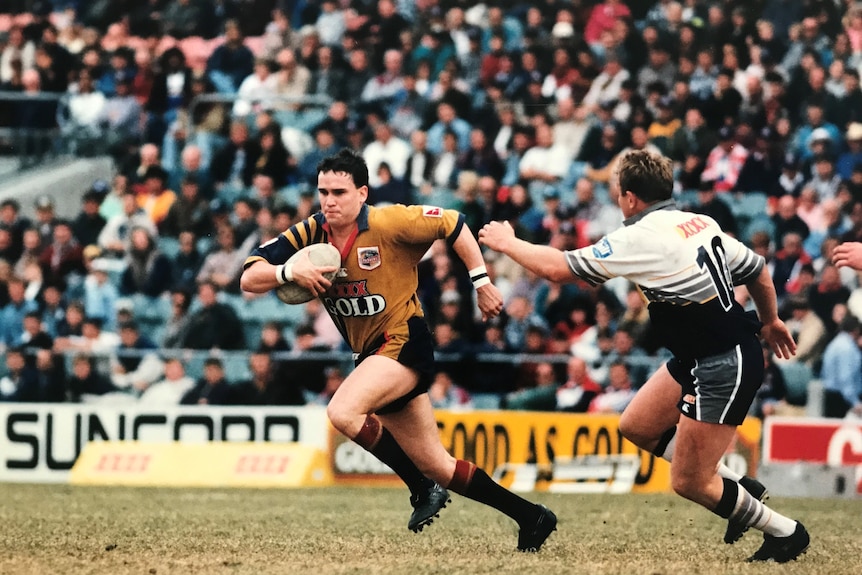 The Crushers worked hard to energise the Queensland public. (Supplied: QRL History Committee)
Given his coaching experience was limited to half a season as captain-coach of Oldham in England, Lindner was learning on the go in the early days as much as anybody else, especially given he was coaching players he'd played with and against as recently as two seasons before.
"I had to feel my way through that, but for the most part I felt pretty comfortable. It was an advantage sometimes, because I could sit down and talk to them and we'd understand each other, but as time went on it became clear a brand new club needed a coach with more experience," Lindner said.
"Just the experience of having to deal with certain situations, you don't have it when you're a rookie.
"It was a real mix of players, we had players from England and Fiji and rugby union and everywhere else, and it was always going to take time for all that to blend together.
"We just wanted to get through that first season with respectable results and have our experienced players set down a culture for the future."
The draw didn't do the Crushers any favours – their first match would be against Canberra, the defending premiers, but thankfully it would be at Lang Park.
A crowd of 21,102 came through the gates to see their new heroes, a healthy crowd by any measure in 1995. Only one regular season attendance at any Sydney game in the entire season eclipsed the Crushers' maiden effort.
They were beaten 24-6 by the Raiders — featuring stars like Ricky Stuart, Laurie Daley Steve Walters, Brad Clyde and David Furner — but they were far from disgraced, and before the game thought "we're a chance of winning this".
Loading YouTube content
"That was our mindset, we weren't backing down against anyone," Sattler said.
"The Brisbane public, I think they embraced us because we were right on that level.
"I felt as though they had the right building blocks to be a serious team in a few years' time."
It seemed like the Crushers were really at the start of something, but there were more than a few teething problems. Fenech, the club's inaugural skipper, was dropped after a 26-2 loss to Parramatta in round two, with Gillmeister taking up the captaincy.
Almost 50,000 fans packed into QSAC to see the club's first local derby with the Broncos, but the 32-0 loss left the Crushers winless after four rounds.
The next day, the Super League war exploded into the public sphere. The Crushers couldn't have known it at the time, but barely a month into their first season, it was already the beginning of the end.
Part two of the Crushers' story will be on ABC Sport tomorrow morning ahead of the Dolphins' first game against the Roosters at 4pm AEDT.
Source:: ABC News